Edit January 31, 2014.
As you can read here, I have decided in general to stop responding to those who do not believe in the Church of Jesus Christ of Latter-day Saints here on my blog.
I believe in the church very strongly, and I find it too tiring to engage with those naysayers, (and looking over my blog find it a little embarrassing I've spent so much time trying to engage with them) so I'm going to stop. I'm not disavowing what I've done or said, or even my path these past few years, but I feel I'm being drawn by the Lord out of the specter of internet arguments about Mormonism. So, just keep in mind that what you see here may no longer reflect my engagement with naysayers against the church.
[This one got long, since it morphed into both a commentary on current changes to lds.org and a post I've been collecting links for since like September. Sorry. I think it's well worth the read, though, for believers, doubters, those considering leaving the church, or those who have left the church! If I get too ranty or offensive, such was not my intention, and I apologize. Whoever you are, you are my brother or sister, and I claim you as such with no reservations. That doesn't mean we'll always agree, of course.]
Confession time. In private, I'm not generally very pleasant when people decide to leave the church. Oh, this isn't in public, and it's not in the open, and it's certainly not to their face. But at home, or in the privacy of my car, or in the shower, or in my mind's eye
(like this Onion piece),
I usually have very loud arguments with their stated reasons for leaving. Because, with few exceptions I can't think of any reason to leave the Church of Jesus Christ of Latter-day Saints that makes any kind of sense to me. (The legitimate ones I can think of would mostly involve abuse by a church leader, but to be clear I also don't think my paradigm is the catch-all best one for everybody, even if I have only my own firsthand experience to draw upon. I am not the ultimate barometer of truth.) To be a believer in the church, as I am, and to see people leave it is deeply disheartening and saddening. I join with President Uchtdorf when he says
"In this Church that honors personal agency so strongly, we respect those who honestly search for truth . . . It may break our hearts when their journey takes them away from the Church we love and the truth we have found."
So I yell at people. When I'm alone. It's more a way of achieving catharsis for myself than how I actually feel, but I find that ranting is good for my soul on occasion, since I don't have ready access to a punching bag. Maybe I should go running more. Anywho . . .
In my limited, personal experience, the reason a lot of people leave the church is as follows, or at least their story follows a kind of general pattern reproduced here (I'm not claiming to speak for anybody in particular, just noting the general pattern that I've seen, so if you're reading this and you don't fit the pattern exactly don't freak out on me):
1. They are born into the church/are converted.
2. They live many wonderful blissful years enjoying the fellowship of the Latter-day Saints.
3. They go through the correlated curriculum, probably several times depending on the length of time this stage takes.
4. They fulfill callings. Bishops. Relief Society Presidents. EQ Presidents. Gospel Doctrine teachers. Full-time missionaries.
One Area Authority 70.
Etc.
5. At some point they discover that some of the things they have been taught over and over in the church are not entirely accurate, or at least represent a very much watered-down version of church history. This usually happens nowadays because of the internet.
6. They frantically do some more research, trying to disprove these new "facts." They can find very little official information from the church on these various issues. (This is because the correlated materials are prepared for a general worldwide audience, and while I think the correlated materials have been wonderful in many ways for the far far majority of the church members, for people going through this general process, the general topics for a general audience approach isn't as helpful.)
7. Because these new facts are, in fact, true, their minds are completely blown.
8. If they try to talk to someone about these new facts, those facts are typically labeled "anti-Mormon" and the concerns of these people are dismissed. Their personal worthiness might be brought into question. They are told to read, pray, and study more.
9. Because, again, these new facts are actually true, none of step 8 actually addresses any of the root problem, and further serves to drive them to silence and to drive their newfound doubts underground, where they fester.
10. Because they now know all these facts, church becomes a substantially less fulfilling place to be. In fact, it seems so watered down and false that they begin to think "the church has lied to me about this. In fact, the church is lying to me, and everybody else, right now!"
11. After some time, the person decides that their personal code of ethics demands that they adhere to reality more than adhere to the church as they once saw it. So they leave.
My friend Seth wrote a paper analyzing "Ex-Mormon Narratives," and in it he actually crunches some data on all of these elements or stages in a non-statistically valid kind of way.
Still, it's worth a quick gander.
And he and I aren't the only ones who have noticed this general pattern. (I don't agree with everything in
this hour-long presentation,
but it's the first 15 or so minutes I'm really interested in here that I do generally agree with.)
This whole narrative frustrates me for two major reasons.
The first reason is that this narrative was not my experience at all. I hit step 5 on my mission. By the time I had gone on my mission I had already read the approved mission library in preparation. At the time the approved books were
A Marvelous Work and a Wonder, Jesus the Christ, The Articles of Faith, Our Search for Happiness, Truth Restored
, and the Gospel Principles manual. Since that was all we were allowed to read on our missions, I read all of those books, cover to cover, twice, in the first eight months of my time in New York. Since that I had now read each book three times in the past year and a half or so, I was quite ready to move on and read something else. I remember that conversation with my mission president. Basically, I told President Stoker that I was just not going to obey the rule about only reading approved books, though I would still be reading religious books in general. Given that I had just read all the approved books, cover to cover, again, twice, and had memorized the discussions four months ahead of schedule, he was generous enough to be okay with my adjusting the rules to fit my situation. I don't recall all the other books I read on my mission, but I do remember several of them. I'd like to talk about two in particular.
First, I read
Who Wrote the Bible by Richard Elliott Friedman.
It was my first introduction to real, bona fide, biblical scholarship, and it was like a river of pure intellectual water flowing into the parched riverbed of my mind that I didn't even know existed. So wonderful to really see someone dive into the text in a way that was light-years beyond the superficial readings I'd encountered previously. I still have my copy of that book, and still believe the
documentary hypothesis
is largely correct. (The Old Testament is still inspired scripture. You can believe both the documentary hypothesis and the idea that the scripture is still the inspired word of God, if "translated correctly," as our 8th article of faith says.)
Second, in my last area I found
Joseph Smith and the Beginnings of Mormonism by Richard Bushman
in my local church's library. This was the first time I learned that some of the anti-Mormon things that I had heard about Joseph Smith being a treasure seeker and some kind of clairvoyant local mystic person thingy were actually true. But, you see, because the "new" information I had discovered was not framed in a way that basically said "see what dirty liars the church correlation committee members are!" or "Joseph was clearly a fraud because he did all this stuff before he claims he met Moroni" I didn't leave the church. Richard's approach was to place Joseph in his historical context, where magic was indeed part of the culture, and then discuss what that would have meant. His conclusion that Joseph was a fish out of water on all sides, those who believed in magic aghast that he was using it for quasi-Christian reasons, and the local Christian clergy aghast that he was using it at all, resonated with me, and helped me come to know Joseph better both as a person and as a prophet. It also helped me by contextualizing the translation of the Book of Mormon. Basically, Joseph hadn't done anything like that at all previously with his seerstone and other gifts, and then he spits out a 500+ page book in a single draft. Orally. Without notes.
Basically I never needed to get to stage 6. I didn't need to frantically do some more research to disprove these "new" facts. I discovered them through good scholarship, by a man who was still a believing member of the church, who helped me find a way to put the following two sets of facts together:
First, that the church is true. Joseph was a prophet. Book of Mormon is true. Etc. These important things I had already learned spiritually.
Second, [insert random "difficult" or "new" facts here.]
I've learned that I have to have to adjust my paradigm. The biggest part of the paradigm shift is the idea that prophets and apostles aren't infallible, and not everything they say is official church doctrine. This was mentioned in just the last October 2013 general conference by
President Uchtdorf
, as well as
Elder Anderson
in October 2012, and
Elder Christofferson
in April 2012. So I have recent apostolic quotes to back me up on this, several times over.
This most major part of the paradigm shift boils down to this-we have an overdeveloped sense of what it means to be a prophet or apostle.
In short, my path differs from the above one by following this (general) pattern, starting with a new step 5 because 1-4 were the same for me:
5. At some point I discover some new thing that demonstrates that what I have been taught over and over in the church is not entirely accurate, or at least represents a very much watered-down version of church history. For me this usually comes from reading the
Journal of Mormon History
or something like that.
6. Because of my new paradigm I can usually find some way to adjust my thinking to both account for my testimony and the new data.
7. I continue my membership in the church, and continue reading good scholarship about the church.
Repeat steps 5-7 as necessary. There are currently three issues that I have not yet found a way to deal with to my satisfaction, but I'm not willing to junk the entire project of being a Mormon because of three (as of yet) unanswered questions. I'm a patient man. So the above narrative frustrates me because I wish my experience was what everybody else's experience was like.
The second reason the narrative frustrates me, is that it relies on, in my opinion, a superficial reading of the historical data.
There is a saying from Francis Bacon. "A little philosophy inclineth a man's mind to atheism; but depth in philosophy bringeth men's minds about to religon." With apologies to Bacon, I'd like to rephrase that just a bit. "A little bit of church history inclineth a man's mind to disbelief; but depth in church history bringeth men's minds about to belief." Hence the title of this post.
It should come as no surprise that
"those who know the most about Mormon history do not simply and inevitably join the ranks of disbelievers and Mormon-haters. It is quite possible, apparently, to know a great deal about Mormon history and still be a practicing, believing Latter-day Saint."
For a people commanded to study out of the best books (D&C 88:118), I bet we do a terrible job of actually reading any books at all. This is because we're largely American, and
Americans are absolutely lousy at reading books of any variety.
When I find that somebody has decided that, say, the dearth of archaeological evidence proves the Book of Mormon is not historical, I almost roll my eyes. High Nibley nipped that one in the bud back in his appendix to
An Approach to the Book of Mormon
, which was published back in 1957. Or his
Since Cumorah
, published about 10 years later, that I talk about
here.
Actual Mormon scholars actually responding to what the book actually says and actually taking it seriously without preconceived notions have actually not thought about finding massive stone buildings from the Book of Mormon lands since, like, ever. This kind of argument applies to almost every other major criticism of the Book of Mormon.
So despite the fact that we have nice pictures like this in our minds, the book itself makes no such claims. (And I don't think that anybody in the history of ever actually built stone city walls that high or that thick.)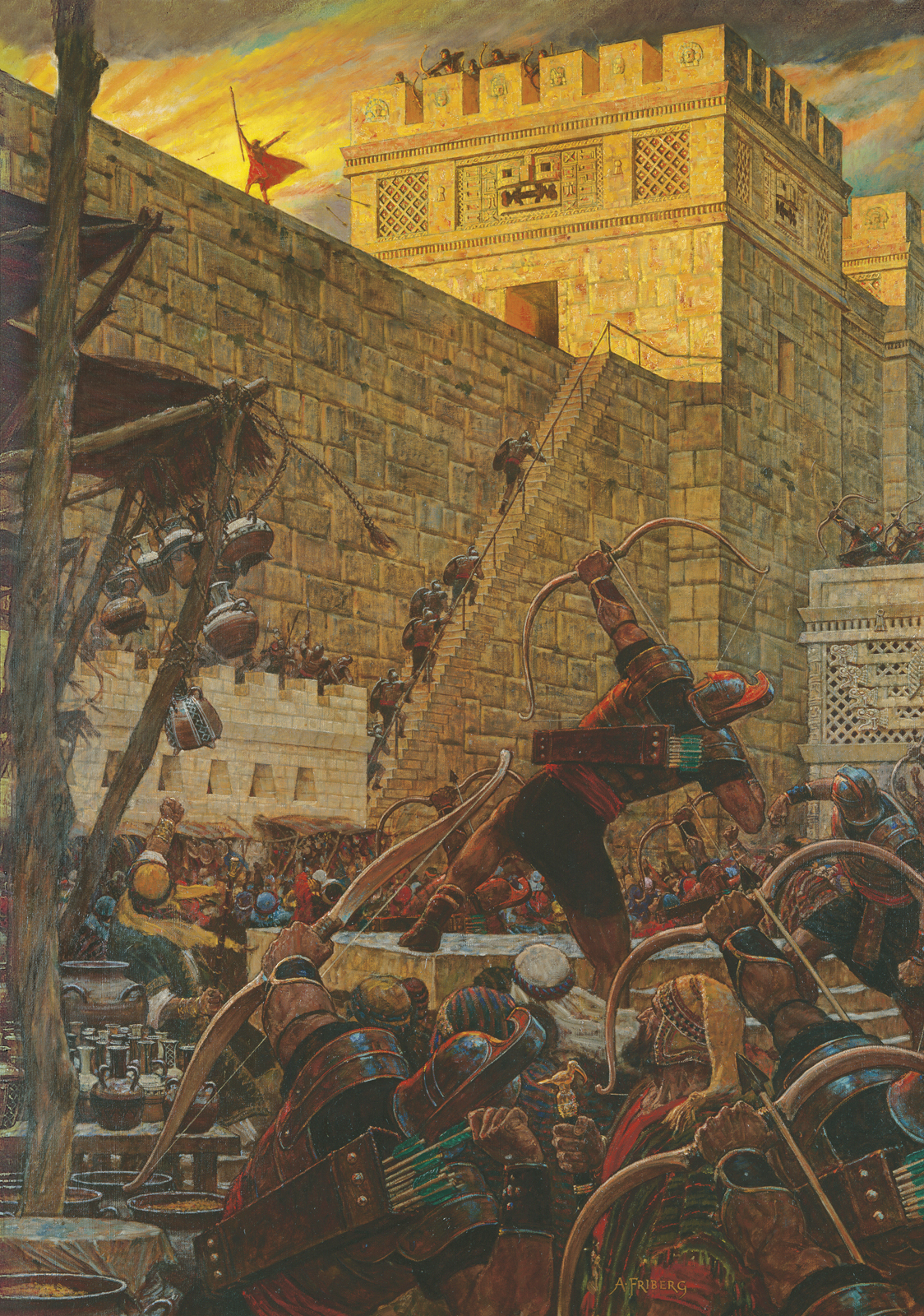 We have to deal with what the text itself actually says, not what we think the text says. Sadly, I feel that looking at the text critically is not something Mormons are very good at. (The fact that the hemispheric model is still considered viable by anybody who's actually read the Book of Mormon boggles my mind.) So we don't even get the book itself right, let alone even attempting to do any reading of the secondary literature. (The fact that
former Area 70 Hans Mattson
didn't know that Joseph was a polygamist represents a total failure on his part to have read D&C 132 and its accompanying explanation carefully at all. The other issues he stopped believing in the church because of them? I am much more sympathetic towards him on those issue, especially since he is not American, and isn't, I don't think, a native English speaker. Those other issues were harder to find in official church publications than they ought to have been. Polygamy was not.)
Then what we basically have is this.
Because if you do actually go read the secondary literature, then the situation that you've likely been presented in your overly basic church classes is shown to be clearly wrong. Conversely, if you do actually go read the secondary literature, then the situation that you've likely been presented by the overly basic sources you find on the internet is also shown to be clearly wrong. Just about every question that causes people to leave the church is complicated if you actually get into it. I'm not quite with Terryl Givens when he says that the evidence has to be weighted evenly for us to make a moral choice, since I think the evidence is much more favorable to Mormonism than not, but to think that there's no evidence against the church is silly. To think that there's no evidence for the church is also silly.
As Exhibit A that a little bit of learning will lead you out of the church, and a lot will lead you back in, I give you my friend Don Bradley.
This Salt Lake Tribune article
does a good job of detailing his leaving the church in 2005 for historical reasons, and then coming back in 2011 because he found those reasons inadequate upon further reflection. He came back while doing the research for
Brian Hales' 3 volume opus on Joseph Smith's polygamy and polyandry,
which I have not yet read. If polygamy/polyandry isn't the most complicated issue in church history (I think it is, though it's not one of my 3 questions I don't yet have figured out), then it's at least in everybody's top 5. Yet this researcher, who has literally gone through every piece of documentary evidence on that subject, has recently returned to the fold as a full-fledged temple-recommend holding member of the Church of Jesus Christ of Latter-day Saints, even being employed by the Church Historian's Office!
In short, if you're going to leave the church, at least take the time to do a proper lit review before you do so. That involves reading books. All the way through. And scholarly articles. Lots of them. From a variety of sources and journals. Peer-reviewed stuff is best. I bet if you did a proper lit review, you'd actually be less likely to leave. And if other problems crop up later, you'll have some good tools to deal with them. That's what happened to me. I agree with Elder Snow when he says
"Because in my view, the more you study, the more your faith will grow and develop."
Things are getting better, however, in several ways. While it may have been true several years ago that it was difficult to find official church statements on the "difficult" issues (though various articles or comments did exist, just too hard to find in my opinion), that is rapidly becoming untrue. Everybody was in a hubbub last week about
the church's new statement on race
, but I think they all missed the bigger things coming from lds.org. The statement on race is merely a symptom, not the underlying cause. What's the underlying cause? Well, watch these new videos from the
Gospel Topics page
on lds.org.
And finally, the one I liked the most, from Elder Snow, the Church Historian, which I'll post in it's embedded glory for you all. This is fantastic!
A few conclusions we can draw here.
1. Since there's a general authority in charge of lds.org, these aren't just random changes by some guy in the server room.
2. This revamp has been in the works for several years.
3. They're moving away from "everybody has the same lesson worldwide" to something like "adapt the core principles for the saints in your particular congregations." (Can I get an AMEN!!)
4. We are to seek learning by study and by faith. Since this is in D&C 88:118, this is nothing new. God "gave us brains for a reason," says Elder Pieper. Who knew, right?
5. These new statements have been approved by the presiding brethren of the church, but are primarily written by scholars.
I'm going to take a guess on what some of the other issues that will eventually be addressed are. I bet I get at least four or five of these right. I'll check back in later to see if I was.
Book of Abraham and Egyptology. Edit 7/8/14:
Yup.
Pre-Utah Polygamy.
Book of Mormon Archaeology.
DNA and the Book of Mormon. Edit 1/31/14:
Yup.
Book of Mormon Translation Methods. Edit 12/30/13:
Yup.
Masonry and the Temple.
Joseph Smith's History of Treasure Digging.
The church is noticing that many people are leaving over these issues. The topics these new statements are addressing can't possibly be coincidentally the same ones that typically drive people out of the church. This is refreshing for me, because I've been in the trenches in this fight since I started my MA at Yale. I've watched more friends than I care to count leave over a superficial reading of the data, so I've tried my darndest to make sure that superficial readings aren't given when I'm teaching. I get a lot of push back on this in the church, which is also frustrating because if not me in my congregations, who? If not in Sunday School or Seminary/Institute, when? It seemed for years the only person actually addressing these issues to help people in their faith crises was John Dehlin, and having him on my side is a pyrrhic victory at best, because he does way more damage than good. His devotees are even worse.
(Edit 6/11/14: The Church has decided to initiate excommunication proceedings against him, so, yeah, I called this. Having him on my side isn't even a pyrrhic victory anymore.)
FAIR has more recently been coming around to this idea of helping people through their faith crises. Also, recently Terryl and Fiona Givens, along with Richard Bushman, have begun to give firesides to help address these issues. But I still felt like a lone voice in the wilderness for much of the past 9 or so years, because none of these resources were official, or from the church.
But now the church has our back, officially, in trying to present the more complicated, meaty, and non-watered-down version of church history. If we can present the more complicated, meaty, and non-watered-down version of church history, people are less likely to leave.
Inoculation works.
It's much easier to get to people before, or at least at the beginnings of their faith crisis. Once they've left, it's much more difficult to get them to come back. But, as Don's story indicates, it's still very possible. Never give up hope on anybody.
And now that it's no longer true that "the church lied" (which was never totally true to begin with) we have to deal with the actual issues, without the emotional entanglements that come from the shock of finding these out and having nowhere officially church approved to turn. Those emotional entanglements are very real, and I fault nobody for having them.
In fact, if you look back at stages 5-10 above, those trapped in that cycle are trapped there precisely because there was no good, readily-accessible information on these issues from official church sources. This feels like betrayal. One thing I did not put above, but I am convinced happens, is that Lucifer is also very much at work during stages 5-10. It is a completely natural emotional response to go "what on earth is all this stuff I've never heard of?!" If there's nothing to be found in the official curriculum or on lds.org then the feelings of betrayal set in. And I have a testimony of the very real power that Satan has in taking a natural, normal, understandable reaction like those feelings are, and twisting that reaction and enhancing it and staining it for his own nefarious purposes. The emotions these issues generate are intense. Enhanced for evil, they are more powerful than one would otherwise expect. I speak here from personal experience. One little teeny tiny fact out of place in my understanding of the church? "OMGWTFBBQ IS GOING ON HERE?!?" And then, after a few deep breaths . . . "Sheesh. Where did that reaction come from?" So I'm not kidding when I say I have a testimony of Satan.
What's my point, I guess? What's the TL;DR here?
The church is true. You should stay in it.
Church history is much messier than you were taught in primary. That doesn't mean God isn't directing the work, though through and with us slow, dim-witted, sinful humans.
There is much good scholarship that enhances faith. You should seek that out and read it. (I'm always happy to offer suggestions, and lds.org is posting some of this good scholarship in its footnotes.)
Superficial readings of complicated issues in church history are silly. There are intelligent, well-meaning people who know everything about church history on both sides of the belief spectrum.
If someone is having doubts, let them work through that and don't write them off. Ever. They might be on their own personal road to Damascus, and don't you dare try to guess what God's timing is for them.
Despite my claim of "yelling" at people, that really is more how I achieve catharsis about the situation than how I actually feel about those people. Ask my friends or relatives who have left the church; I'm still nice. (At least, I really try to be.) One friend said that I'm the only apologist he would go golfing with. I'm sure we would have a good time, and he would have a great time because I've never been golfing, so he'd probably wipe the floor with me. If more people were nice to those that were having doubts, like
the opening story from this blog post,
I think we'd all be better off.
So be nice, be patient, and be kind to everybody regardless of where they are on the faith spectrum.
And be thorough in your gospel studies. Very very thorough. Church history, when looked at in aggregate,
with no false expectations,
indicates that the church is true. Often messy and human, sure, and very occasionally uninspired, but still true.
P.S. For those of you who think I have oodles of time to read Mormon scholarship because of my chosen profession, that is not true. I've written one paper on Mormonism through both my graduate programs, and Yale Div and CUA theology programs aren't that interested in Mormon theology. All my reading of the secondary literature on Mormonism? That's been on my own time, for my own enlightenment.